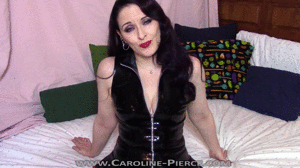 12:05 video
Mistress Caroline doesn't have a whole lot of use for someone like you. Be useful and entertain her, strip naked and do as she says.
Since you're so eager to prove your worth and your manliness, you better get to following Mistress's instructions.
Your ex sought out real men, since you certainly weren't one BUT you could always WORK on being a worthy man! Sometimes little piggies can actually better themselves and learn to be a real man so you have more use than just as a pay pig.





***this was a custom video commission. Want your own? Let's talk!


JOI, FemDom, MBI, Tease, Mild Humiliation, Instruction, Latex, Sensual FemDom, Cuck, Stamina Training.