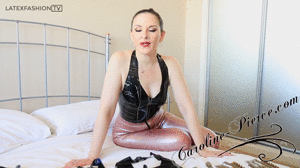 11:45 video
This update is for all you latex lovers out there!
It's a bit different than my usual update, as it's an interview I did in conjunction with Latex Fashion TV.
Join me as we talk about my love of latex and explore the latex wardrobe that I bring with me when I travel, and watch me try different latex pieces on and layer them.
If you're a rubber lover, or love to watch a woman dressing up in sexy clothing, you'll enjoy this.

If you know me, you know I ADORE LATEX and all things rubbery and shiny. I hope you enjoy watching this as much as I enjoyed making it.

The full interview in its entirety is ONLY avaible on Latex Fashion TV's Patreon account and, with permission, here on my site for my fans and followers.




latex, wardrobe, rubber, interview, latex leggings, latex spanking skirt.