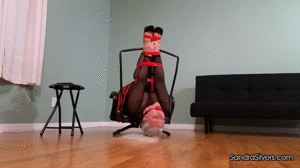 13:49 video
This time when I went hang out with my gorgeous gal pal Sandra Silvers, I planned on relaxing and taking it easy. I know we usually end up getting into precarious situations when we're together, like getting tied up and sold to the highest bidder.
So this time I planned...and I decided to have Sandra help me, I mean REALLY help me relax and stay out of trouble: the best way to do that was to make her be my human chair.

__________________________________________________________


Strapped up by Mistress Caroline, Sandra is used as a Living Chair, Rewarded with Bound Orgasms! #Forniphilia
Caroline wanted to spend the rainy day watching TV and playing video games. She was looking forward to lounging on her new easy-chair, Sandra. Bent over on herself, ballgagged and strapped-in, the curvy catsuit-clad MILF could hear Caroline in the kitchen making popcorn. She struggles and tests the bonds lashing her in place. Caroline comes in, swivels her chair around, displaying Sandra's gorgeous ass. Caroline finds an old movie on the tube and then takes a seat on her captive furniture. The chair mmmphhhs and twitches the best it can, amusing and frustrating it's owner. Caroline switches from a movie to a video game, but now the chair is just distracting. Caroline knows how to take the struggle out of her chair and goes to the playroom for a toy. She returns with a serious magic wand vibrator. Caroline unzips her seat's crotch and applies the device, working it like a fighter pilot using a flight stick. That'll take the fight out of her furniture.